The white road with cypress trees, the rolling hills that stretch to infinity, the medieval villages perched on the hills and the beautiful art towns like Florence and Siena. These are just a few reasons to arrange an Engagement Session in Tuscany. Even if you haven't been here before, you could write a book about the best spots for portraits just googling or browsing your Pinterest boards. And I'm sure you've found many of them before reading this page! Should you need a guide on how to get dressed, please see the 8 Tips for the Best Engagement Session in Italy.
But Tuscany is not only this. There are many little-known places and famous areas within its borders in which taking gorgeous engagement and pre-wedding pictures. You might also take home amazing honeymoon photos that your friends and family will love forever. Any excuse to get pictures taken here!
That said, please see below the best spots for engagement sessions in Tuscany.
Florence
Best time for photos here is at sunset. However, Florence is always very crowded, so it's worth scheduling the photoshoot at dawn, especially if you don't feel comfortable in having many people watching.
San Gimignano
San Gimignano is the town of the towers. It's located exactly in the middle between Florence and Siena. Its historic centre is delightful, full of narrow streets; it's a pleasure getting lost and wandering thought. San Gimignano also provides hundreds of enchanting locations for photographs.
Should you wish to see more, San Gimignano is the starting point for a tour of medieval villages: Volterra and Certaldo are just a few minutes drive away. But its flagship is the landscape: rolling hills, vineyards, cypresses and olive groves are the perfect backdrops for any photo shoot in the countryside.

Chianti
Chianti is probably the most famous area of Tuscany.  Here hills and cypresses blend harmoniously to provide amazing postcards.
Taking the ancient road from Florence to Siena, you can visit all the lovely villages of the area: Gaiole in Chianti, Strada in Chianti, Castellina in Chianti are just some of the most typical and evocative. There are hundreds of enchanting spots for engagement's photographs; it's easy to get lost in the vineyards and olive groves and get great pictures at sunset.
Book your holiday here! In addition to photos, you might enjoy a Vespa or Cinquecento tours and numerous wine tastings in the nearby Cantinas.
Lucca
Lucca is one of Tuscany's most evocative towns. Very well known in Europe and little overseas, Lucca provides photographers and couples dozens of fantastic spots for portraits. Hidden by huge walls, its historic centre is one of the prettiest; numerous narrow roads lead to Piazza San Michele, where the cathedral stands beautifully.
Before getting lost in the centre, you can take a walk on the walls, which provides many beautiful views of the town from above. You cannot miss the Anfiteatro: a circular square with many open-air cafes where to relax and enjoy a Spritz with friends. The surrounding area also deserves mention. The numerous villas in the vicinity provide magnificent gardens, perfect for photo shoots in the hottest days of the Italian summer, or if you wish a more intimate location. Please see the best here.
Forte dei Marmi
If you're a fashion addicted and there's nothing more exciting than spending time wandering through fancy boutiques, Forte dei Marmi is the place for you. The beautiful village of Versilia is perfect for beach photo shoots at sunset.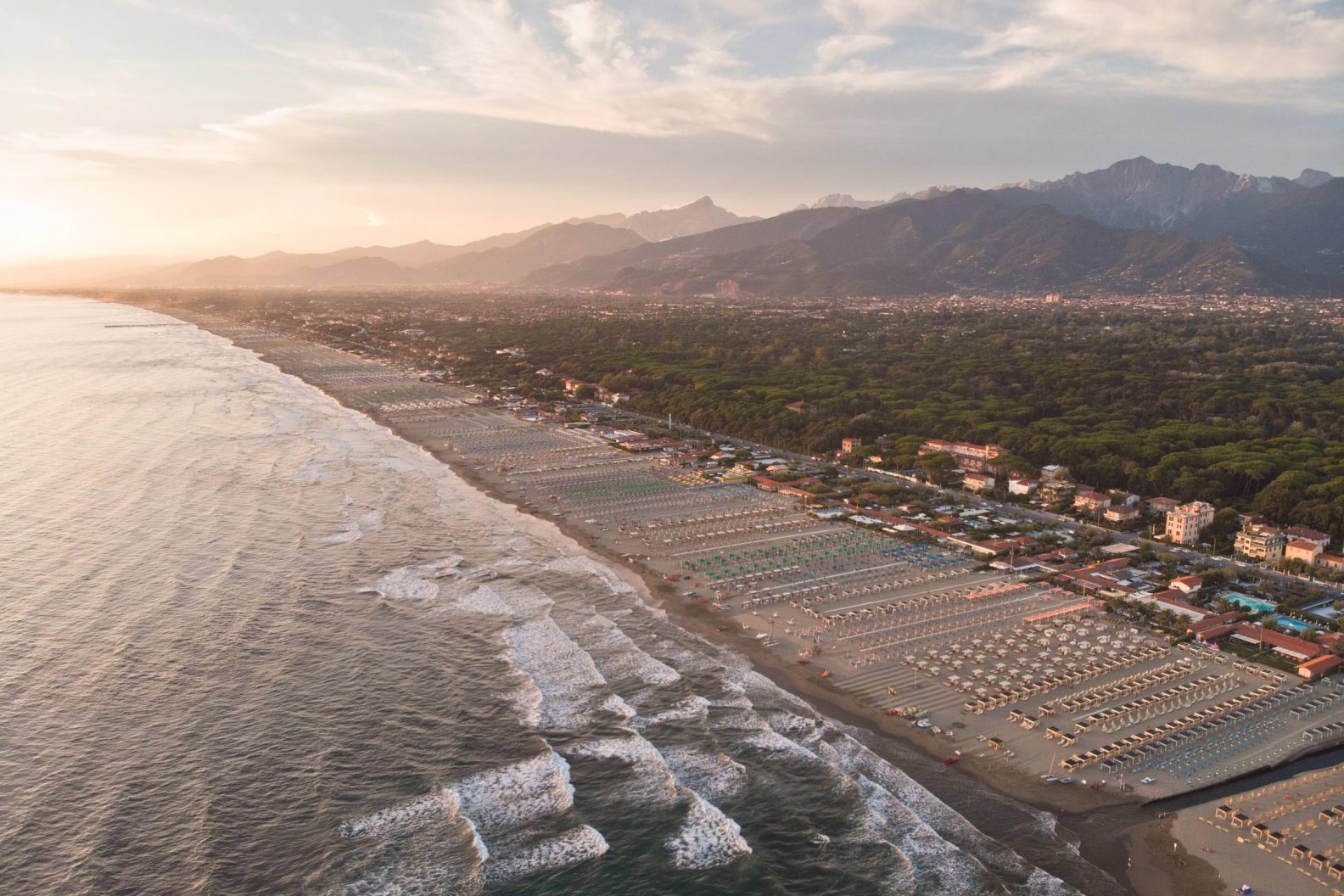 The most recommended locations are the exclusive beach resorts and the city centre, in addition to the nearby town of Pietrasanta, less popular, and therefore better for intimate and relaxed portraits. You should avoid Forte dei Marmi in July and August when it's overcrowded because of Italian summer holidays.
Your top spots
What about you? Is there any place for e-session that you'd love to recommend? I'm happy to add it to this list!