Surprise your loved one with a Cinque Terre wedding proposal! Kneel down in one of the most romantic destinations in the world, and you'll get memories for a lifetime.
Perched high on the impressive black cliffs of Liguria, Cinque Terre has an unbeatable charm. It's always been a must-visit destination for lovebirds looking for a romantic getaway. When you propose to the love of your life, everything should be how you want it to be. It is a story that will be passed down through the generations. The turquoise waters, picturesque villages, and winding cobbled streets make the Cinque Terre one of the most exclusive and enchanting places to pop the big question.
Please read below why Cinque Terre should be the spot of your wedding proposal:
The most romantic destinations in Italy ;
Endless spots: from vineyards to old towers with a view and terraces overlooking the ocean;
Lots of vendors, from photographers to musicians and flowers;
Stunning photographs to take back home.
There's no better place worldwide to kneel and ask her to spend the rest of her life with you.
A special offer
I am here to capture the magic of your wedding proposal through photographs.
Thanks to my experience, I can help you to plan the proposal down to the smallest detail. Whether you wish to propose her on a terrace with a view or a whitewashed sand beach, I will make it happen. I will be secretly waiting, out of sight, for the best moment to take romantic, exciting, and engaging photographs.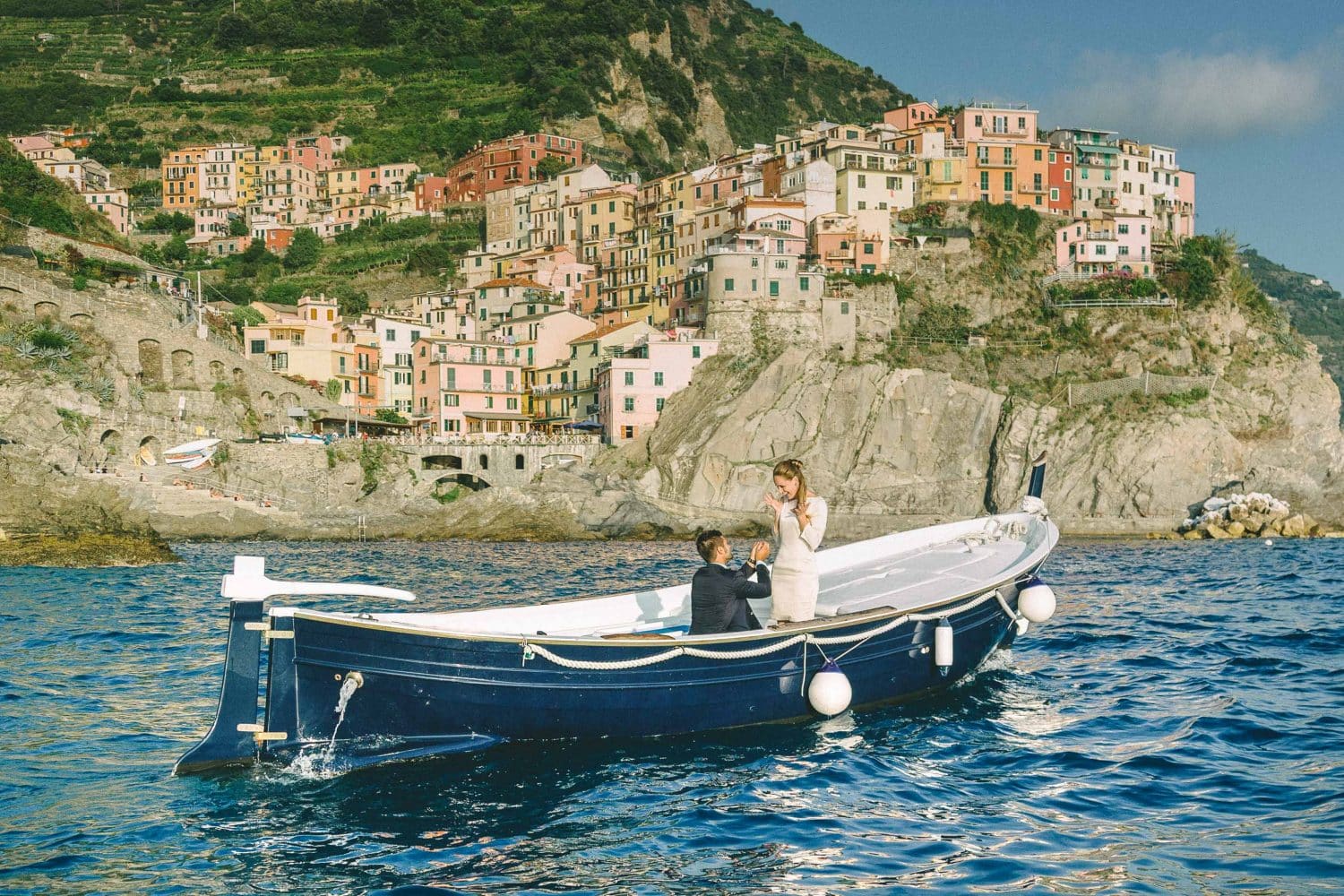 My wedding proposal photography includes:
Help and tips in the planning of the proposal;
Wedding proposal coverage + an engagement session;
Unlimited high-resolution edited photos ready to print;
Stylish Web Gallery for easy viewing, download and ordering prints & books;
Royalty free print rights on every photo;
Taxes and travel expenses fully included.
Please send me a note to check availability and rates.
Frequently Asked Questions
I love Cinque Terre, but I live overseas. Can you help me with the organisation?
Yes, I'd love to. I know how challenging arranging a destination wedding proposal might be. Please email me an I'll see what I can do for you!
What are the best places for a wedding proposal in Cinque Terre?
There are many: old towers with a view, terraces overlooking the sea, etc. I might provide lots of ideas to kneel down!
Where can I stay in Cinque Terre?
The easiest way to find a place is at booking.com or on airbnb.com.
Can I arrange a short holiday in the area after the proposal? Are there beautiful locations nearby?
There are tons of places to visit in and around Cinque Terre. Each village will surprise you with new sceneries, things to do and romantic hideaways.
Also, Cinque Terre is well connected with the more significant Italian cities, mainly by train. Each village has its own railway station. In less than two hours you might be in the centre of Venice or Rome in a couple of hours. Easier than a slice of cake! The most significant airports nearby are Genoa, Pisa and Florence.
How should I dress for the proposal?
Keep in mind that proposal photos will last a lifetime, so dressing well is a must. Elegance is always welcome in Italy; please see here some tips for the outfit.
Can I buy the ring in Cinque Terre?
There are no goldsmiths in Cinque Terre. If you're passing through Florence earlier, you can find very exclusive rings on Ponte Vecchio.