Sometimes I'd like to be American or Asian only to spend my honeymoon in Italy. From this point of view, my clients are fortunate. Whether they're Japanese or Australians, it's always nice to look at them strolling among Italian wonders during their honeymoon photo shoots.
Italy, thanks to the excellent climate and relaxed lifestyle, is the ideal place for every honeymooner. The destinations are endless! Just browse Google and Airbnb, and you'll find tons of excellent accommodations and things to do. But if you're looking for unique honeymoon Italy ideas, something out of the ordinary, please read below.
Wine tasting in a fairytale villa
Conti di San Bonifacio is located in the Tuscan countryside of Maremma. The villa overlooks a valley with extensive olive groves and vineyards. Here you can spend your days relaxing by the pool, strolling through the Tuscan countryside, and dining alfresco tasting delicious food and the excellent local wines.
Bike tours in Val d'Orcia
Have you ever seen Leonardo Da Vinci's Monalisa? You must know that the scenery behind this your girl is the fabulous Val d'Orcia, in southern Tuscany, with its cypress trees and its legendary landscapes. Cycling here is one of the experiences to be done once in life at least. Almost all tourist accommodations offer bike rentals to spend a few hours on the white roads of this part of Tuscany. Are you lazy? Instead of the bike, rent an old Piaggio Vespa to spend a few hours riding like an Italian!
Riding old-fashioned Fiat Cinquecento
The same goes for the very famous Fiat Cinquecento, which sooo many Italian movies of the fifties were inspired to. Don't miss the chance to rent one and spend a few hours relaxing on the old roads of Lake Como and Tuscany, with ice cream in your hands, singing old Italian songs loud.
Don't be scared; it's not difficult at all if you drive slow. But every cloud has a silver lining: you can fill your eyes with all the wonders of Italy during the trip. Or having a photo shoot taken. It's up to you!
Relax among beaches, art and shopping
For couples who seek sophistication and relax, Versilia is the best seaside destination. Here you might spend some days in exclusive beach resorts shopping in the boutiques of Forte Dei Marmi. Villa Grey unites the charm of a boutique hotel with the fabulous lifestyle of the area.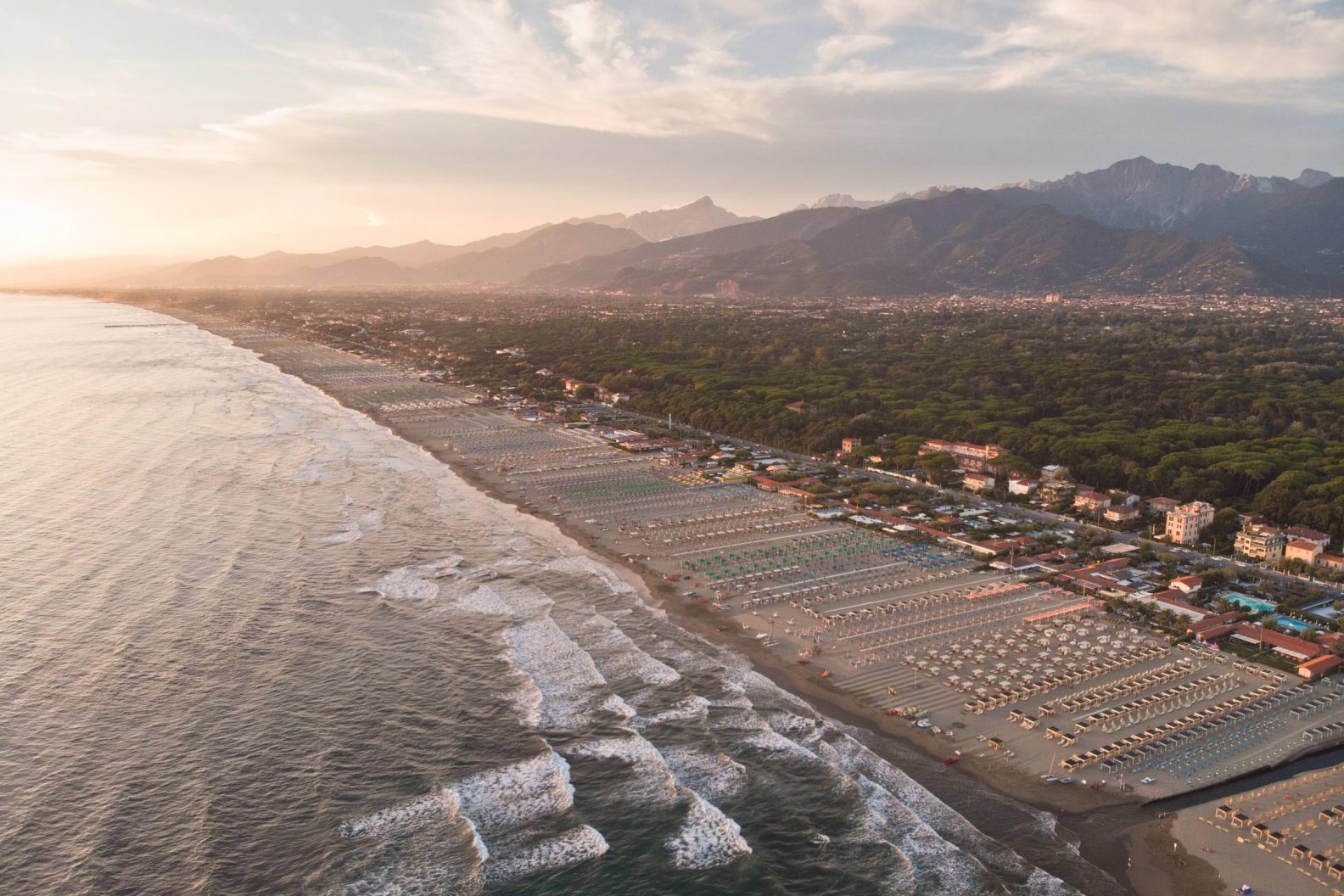 Don't miss to enjoy your evenings in the nearby Pietrasanta, between the workshops of master stonemasons, art galleries, and open taverns.
Romance in Florence
On a gondola in Venice
Venice, the most luxurious and unique city in the world, is to visit at least once in a lifetime. The honeymoon is the perfect opportunity to stay in fantastic luxury hotels overlooking the water- like Hotel Danieli. Imagine a gondola ride at dusk, among the canals with your loved one. You cannot miss it!
Cinque Terre and Italian Riviera
The most authentic Italy, where folklore meets a magnificent scenery. Cinque Terre are five small villages in Liguria, also called the Italian Riviera. Here you can relax hiking on the hills surrounded by vineyards and olive groves.
After so much effort, you'll be glad to spend romantic dinners alfresco, on the terraces of restaurants and resorts overlooking the sea.
Cooking school in Florence
Between one excursion and another, do not miss the opportunity to learn how to cook like an Italian Nonna. Many schools in Florence offer the chance to cook homemade pasta and learn some secrets of the best cuisine in the world. Emiko Davies is one of the most renowned writers on the subject. See her website – or ask her help.
Hiking Cinque Terre
Among the many activities you might do in the Cinque Terre, hiking is one of the most exciting! The five villages are connected to each other by numerous trails. Some of them are very easy, perfect for a romantic walk. Others a little more challenging, passing through vineyards, fields and olive groves overlooking the ocean. The climate is always excellent in every season. Therefore, if you want to start your honeymoon greatly, don't miss the chance to hike the Cinque Terre.
Your idea?
What do you think? Have you already been in Italy and wish to share your experience? Feel free to email me here.